Well, it seems that SS Systems has been overrun by some sort of running bug.
This time it's Ben who has decided to take part in, not just one running event, but 3! All in one weekend.
While the rest of us were relaxing in the beautiful sunshine, Ben and a gang of mates, went running around Liverpool as part of the "Rock n Roll Liverpool" event.
Ben's itinerary included:
– They started on the Saturday, doing a "leisurely" 5k run and winning themselves a Royal Wedding inspired medal. He was joined by his partner Gail, and three of his friends.
– On the Sunday, he and Dave ran the half marathon while his other mates (Matt and Sally) opted for the full marathon. Not even the 22 degree heat stopped them! Another medal was awarded – this time with a spinning Liverpool "eye" on the front.
– If that wasn't enough, three of them decided to then do the "fun run" (is there such a thing?!) – we think it's because they wanted yet another shiny medal.
Ben came away with 5 medals in total – the remaining two included a very flashy guitar shaped medal (complete with spinning plectrum) for doing two races in two days, the other being the "Encore" medal for running the race two years in a row (although it was Ben's third year).
Rock n Roll Liverpool
The race is held every year, and true to its name, has a number of local artists dotted around the course. Certainly makes it a little more interesting doesn't it? Singing, cheering and running all at the same time. This year the headline act was Space, the popular Liverpool band known for their critically acclaimed albums, "Spiders" and "Tin Planet". Ben even managed to get a photo of himself with the lead singer.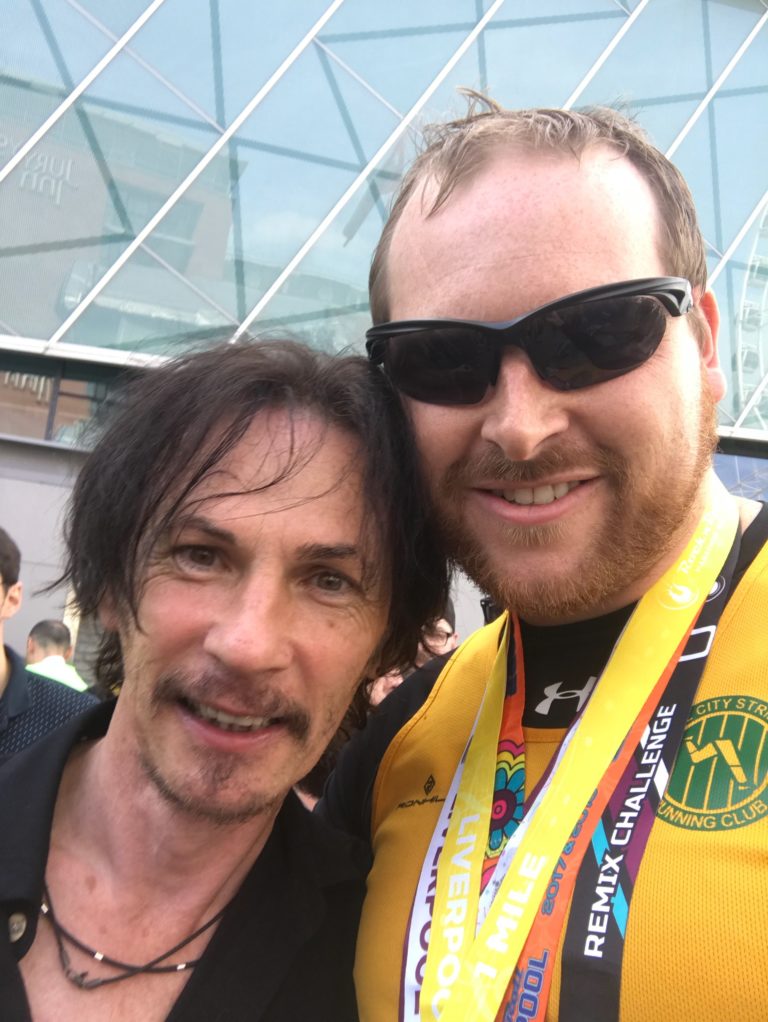 Well done Ben and gang for an amazing run. Maybe some day we can all join in and make it an SS Systems day!