Well, it's been months in the making but SS Systems has finally moved to bigger and better premises.
With our team growing, Sorby House was getting a little cosy, so Andy started looking for a new building over a year ago. After a number of potentials that didn't work out, he found Milton House. It's a two storey property less than a mile away from Sorby House, a building big enough to give each member of the team their own desk – though we're already struggling with squeezing another admin member in so we may have to reshuffle after Christmas!
The move comes after 20 years working out of Sorby House, bought back in 1997 when Ron Stokes started the business. We are leasing it out so if you want a base in Rotherham, do get in touch.
It was surprising how well the move went, to be honest. Whilst it was obviously hard work, the team pulled together and got it done in just two days – many working on the Saturday to get it all finished. That's what's good about working at SS Systems – we do have a great team of people who pull together. The preparation took a little longer, with the boss & the engineers putting in goodness knows how many hours to get the infrastructure sorted.
The MD's comment
"I am extremely pleased to be able to announce that SS Systems Limited is celebrating its move to much larger premises to house our ever-expanding team this month. We have been fortunate to see substantial sales growth over the last few years and have plans to expand the business even further over the next five years. Our new base enables us to accommodate both our install and maintenance divisions, as well as our sales and admin teams. It will also enable us to offer on-site training and new product demonstrations for our client base." Andy Stokes
So it's all empty….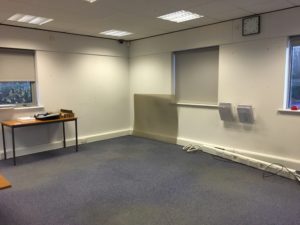 It's "To Let"
As I say, we are looking for tenants for our old building. If you know of anyone looking for a property in Rotherham, do let them know.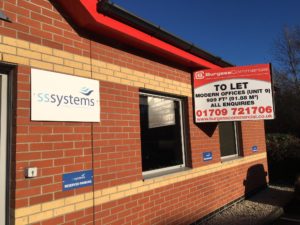 The Future
Needless to say we are extremely excited about the move and are raring to go to make 2018 our best ever year. We will be using the property for training events and demonstrations and are looking to hold an Open Day early in the new year. Watch out for the invites!
Our new address
Milton House, 77 Sheffield Road, Rotherham, South Yorkshire, S60 1DA Telephone Number 03300 417170.