Halloween is at the end of this month, and Bonfire night is only a few weeks away. So here is an article on how to stay safe during your Halloween & Bonfire night festivities.
If your place of work is open to the public for any Halloween festivities, your a school and might be having a pumpkin trail, or as a community, you might be organising a Halloween hunt.
Or, maybe your staff are having a charity dress-down day the Friday before. Or perhaps you're reading this as a parent who is taking your ghosts and goblins trick-or-treating. Whichever category you fall into, here are some safety tips for one and all.
Not wanting to put a dampener on it, but Covid is still around. Because of this, we need to include some covid related safety tips, so here goes.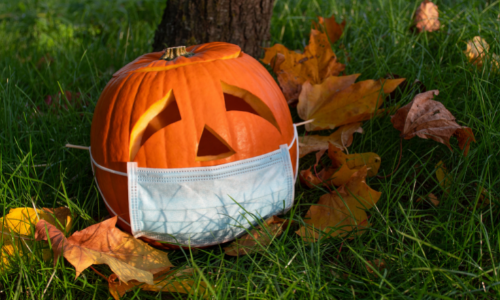 Our tips on how to stay safe during Halloween and Bonfire Night
If meeting in large groups, meet outside and remain outside if possible
Wear a covid mask. What better excuse to wear a mask than at Halloween – get a scary one now whilst stocks last!
If you're having an office dress-down day or an inside celebration give fake candles a try
Tea lights and other candles are ok in pumpkins. Just make sure there are not too close to where people will be standing with floaty costumes on.
If you're trick and treating with little ones or going to a bonfire, have them carry glow sticks. They are more fun than torches and safer than sparklers
Ensure your Halloween costumes and your children's costumes are CE marked to ensure they meet the required safety standards
Might be an idea to wipe all the treats (from trick and treating) with anti-biotic wipes (before popping them into the sweet draw).
Get wrapped up on Bonfire night, no floating clothes that can easily catch a flame and tie back any long hair. Better to be safe than sorry.
Let the professionals organise and light the fireworks – you stand back and enjoy!
Remember The Firework code
Because all of the last year's Halloween and Bonfire night celebrations were cancelled, people may try and host their own this year to keep a low (covid) profile. However, with events like Bonfire Night, it's not always the safest option.