Staff development is high on our radar for this year at SS Systems. When a business is growing, day to day challenges can make it difficult to set aside the time and budget to train and develop its team members, and as a management team, we acknowledge that perhaps this has been the case for us in the past.
But in our strive to become "the best we can be" as a company and as a team of people, 2018 will see a renewed focus on development, from product knowledge to skills training to team building. Our people are important to us – they are, after all, the face of the company and the foundation to our success.
This week, the sales team went down to Leicester to visit one of our key suppliers to learn more about the products, their manufacture and how we can work together to help our customers.
It was a really positive day. The session started out with a detailed overview of their range of products. Notifier is a Honeywell brand, and as one of their authorised distributors, we have access to their full range of integrated fire and security products, from fire alarms to emergency voice communication systems, aspirating systems and voice alarms to name but a few.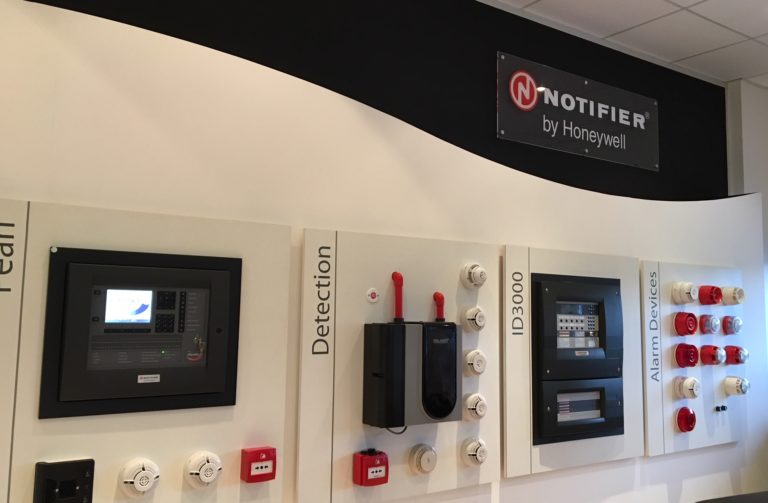 Following a very nice lunch (always good!) we went on to a full factory tour. It was extremely impressive – all very clean and orderly. It gave us quite a bit to think about – they have daily team meetings which are structured and timed to make sure they don't go on too long, spend time with their team encouraging them to get involved in improving the way they do things and look to make many small changes to continually improve efficiency and quality. A few ideas to take back to the senior management team….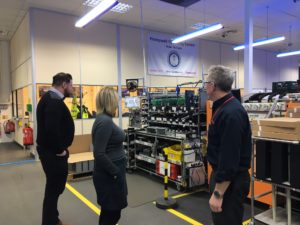 It was useful to see the entire product range, rather than just focus on the traditional fire alarm systems. For example, they have an impressive aspirating system that can be used in very sensitive areas of a building and a paging system which can be used to alert fire marshalls of any incidents.
It was a really useful day. Topped only by the fun we had playing with the public address system set up in their demo room before we left!
The sales team can't wait for their next training day.
If you would like to learn more about the Notifier range of products, or any of our systems, then please get in touch with our sales team. You can email them at sales@sssystems.co.uk or give them a call on 03300 417170.