Posted September 14, 2021
If your commercial fire alarm monitoring system uses a PSTN line, then you need to continue reading.
PSTN, otherwise known as the Public Switched Telephone Network, is the telecoms traditional copper phone line. It's due to be phased out and replaced with VoIP (Voice over Internet Protocol).
As a business owner, you need to think about what PSTN dependant systems you use.
So, what are the key PSTN switch-over dates?
September 2023 is the National 'stop-sell' deadline on all PSTN products. This has already come into effect in some areas. E.g. Leeds exchanges stopped 29 June this year.
If your alarm system uses a PSTN line and you need replacement parts, you will struggle.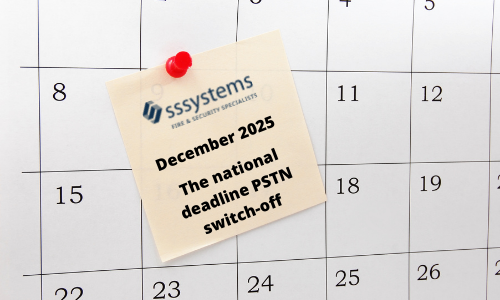 December 2025 is the National deadline for the switch-off of all PSTN lines. In your area, this might be sooner.
Between now and your local exchange's switch-off, you need to plan to upgrade your fire alarm monitoring system.
To find out your local PSTN switch-off date, it'd be best to contact BT.
But don't leave it until the last minute. The Government, and indeed BT, are encouraging business owners to make the switch as soon as possible.
You're not on your own.
Approx. 42% of SMEs report using analogue lines, which equates to around 2.4 million UK businesses. It's not just small businesses though, a third of larger companies still haven't made the switch. Which is totally understandable with the distractions of Brexit and Covid.
But now is the time to get back on track and start planning for the switch-over.
You may also have other systems using a PSTN line, like card machines etc.
How to get moving with the times?
Call us on 03300 417170 and we can talk you through your options
Your local council and BT will prompt you to take action. However, they will not be able to upgrade the fire alarm monitoring system physically.
If you are not yet a SS Systems customer, don't worry. We can still provide you with a quote to upgrade your monitoring device and maybe a maintenance package alongside this.
To talk to one of our experts, please email us at sales@sssystems.co.uk or give us a call on 03300 417170.