It's two years since Covid hit the news and at the time we could never have guessed the impact.
We had never experienced anything like it, we didn't know how long furlough would last, how long we'd be working from home, and home-schooling our children.
For business owners with Commercial premises, it was much harder to predict.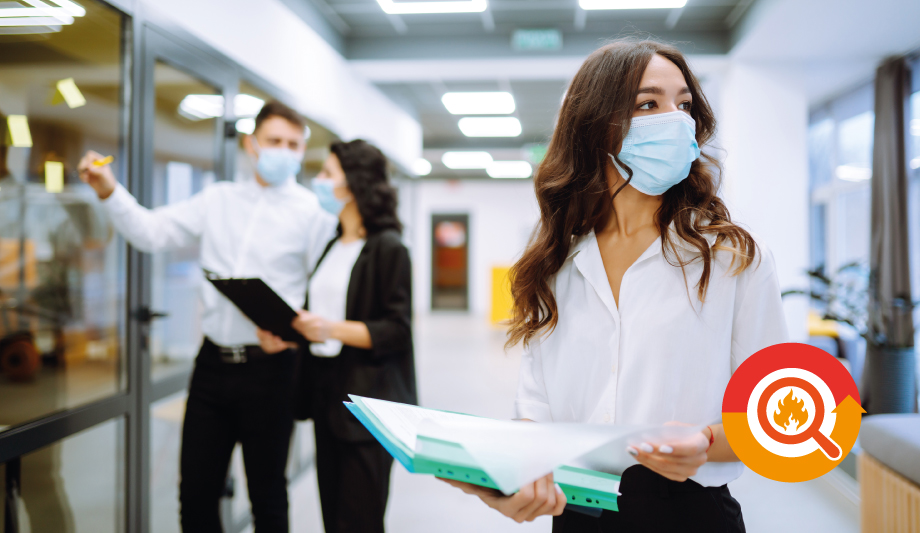 How long would they be shutting the doors for?

Did the restriction apply or not?

Did they furlough staff, provide laptops and send them home, lay staff off or reduce production and alter shift patterns?
It's understandable as to why weekly fire alarm tests, fire risk assessments and staff fire safety training slipped their agendas.
Two years on…
It's just come to light how the Coronavirus has impacted UK businesses and their fire safety risk management. The Fire Industry Association has reported that arson increased during this time. Maybe the result of criminals taking advantage of the behavioural changes.
Hopefully, we are now all on the recovery roadmap and it might be more apparent now as to the changes we need to make.
Has your company model changed since Covid?
If you pivoted your business in order to survive the pandemic, remember to do an up to date Fire Risk Assessment. This is always required if you change the use of your commercial space, the staff and or the contents.
Our fire safety advice as businesses reopen post covid
The areas you need to address and consider are:
Carrying out an up-to-date Fire Risk Assessment

Test your Fire Alarm noting any errors

Check your Emergency lighting (at night)

Ensure all fire doors and means of escape are still signposted, well-lit and free from obstruction

Your fire safety equipment is in working order is covered by your last service

List all your staff and their fire safety training dates – listing any that require refresher training, or initial training.

Remind staff of the fire assembly points by having real fire drill

Double check with all new employees who joined during the last 2-years that they have the training they require.
We appreciate this is a lot to take on, as you try and regain normality for you, your staff and your customers. And we are happy to help.
As BAFE registered and third-party accredited specialist we'd love to manage your Fire Risk Assessments, Maintenance and servicing of your fire equipment, and help train your staff.
Here's a quick summary of how we can help:
We provide a FREE survey of your current Fire and Security systems

Outsource your important Fire Risk Assessments to us

We can regularly maintain and service your current fire alarm system

Let us train your staff and fire wardens on fire safety – with hands on training they'll remember
If there are any problems, repairs or system errors we are experienced and well-equipped to manage them for you.
To arrange a call back or to leave us a message, you can contact us here.