Bronze or pottery are the traditional 8th-anniversary gifts (apparently) but today we went with flowers and prosecco to celebrate Amanda's 8th work anniversary. It came as quite a shock to her this morning – time flies when you're having fun they say!
Amanda is our service manager and is a particular favourite with our clients. That doesn't surprise us, given her dedication to excellent customer service and to the company. She is a credit to the company and is loved by us all.
When asked about how she came to work at SS Systems she laughed. "It was quite funny actually. I'd actually gone for a few jobs after taking six months out to spend time with my puppy, Harvey, following redundancy. Andy interviewed me for an administrator role, but took his time offering me the job. In the meantime I'd actually been offered another job with a building refurbishment company, but before I started Andy asked me in for a second interview. He offered me this job and something told me I should take the role at SS Systems instead."
Before coming to SS Systems, Amanda worked for another fire & security company after 8 years in the travel industry. She used to work in the call centre selling holidays before moving on to marketing when the website came live. She loved the job in travel but it lost its challenge after so many years. Thankfully, she's never short of challenges working for us so hopefully we can keep her interest!
Amanda is a keen animal lover, her favourite being Harvey – her precious Springer Spaniel. Here he is, looking gorgeous.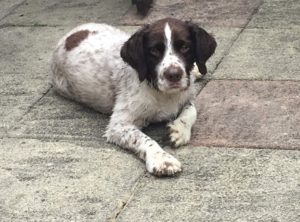 Andy Stokes said,
"Amanda has been and continues to be a key player in the SS team. I'm so thankful that she decided to say no to that other job and come to join us instead. Here's looking forward to the next 8 years! Thanks Amanda for all your hard work over the years – your contribution to SS Systems is much appreciated."