Fire Safety & Security For Education Facilities In Focus
The safety of all students, staff and visitors within your premises is paramount. This is especially important when it comes to fire safety, as educational facilities, local authorities and the Ministry of Education work towards the same goal of ensuring schools provide a safe environment. All schools are legally required to have a fire safety plan called a Fire Safety Risk Assessment (FSRA).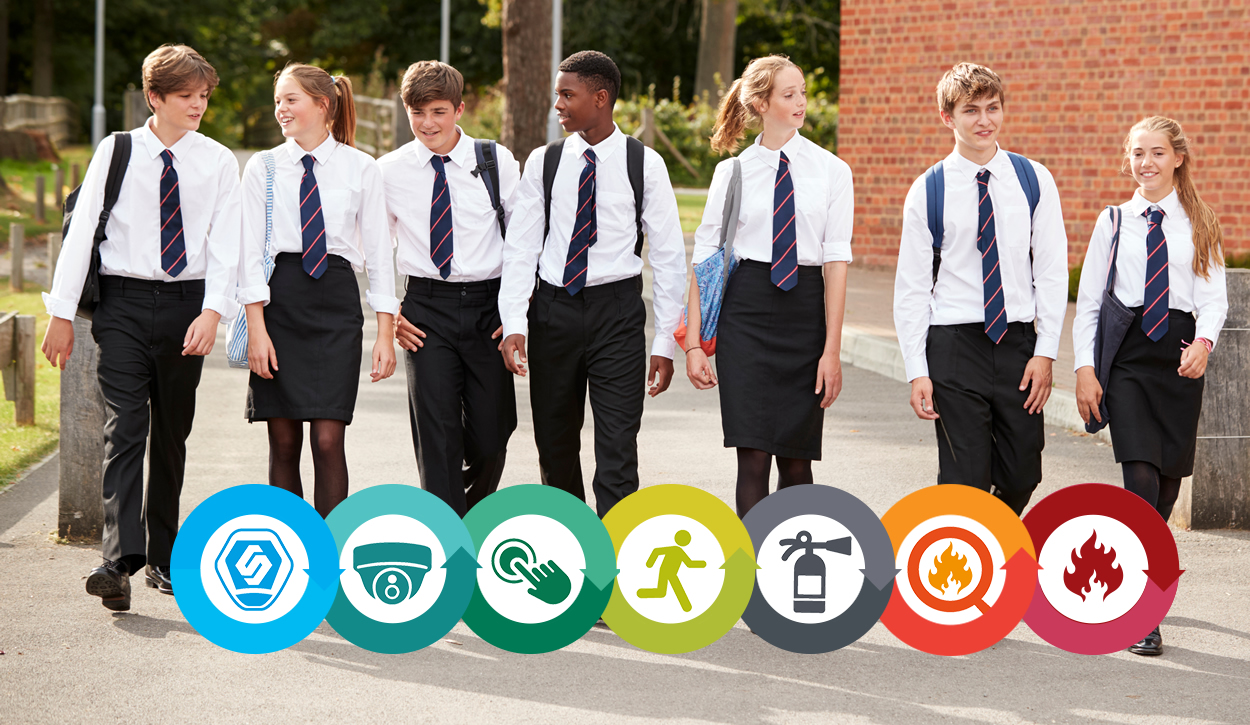 Every school's FSRA will be different, however, there are some procedures they should all have in common. All schools must have regular fire drills to ensure students and staff have a clear understanding of evacuation procedures. The FRSA must also make clear who the named fire wardens are. This guidance is set by the Ministry of Housing, Communities and Local Government (MHCLG).
The Guide Says That Schools Need To:
Make sure fire safety plans are in place to reduce the likelihood of fire
Maintain fire detection and alarm systems
Make sure staff and pupils are familiar with emergency evacuation plans
It is also crucial that:
Fire assessments are kept up to date
Fire precautions remain current and are reviewed when there are significant changes to the building
Following this guidance has helped ensure fires in school are very rare and when they do happen their impact is minimised
The Department for Children, Schools and Families says that a school's objectives for primary and high school fire alarm protection should include:
Minimising the effects of fire on the operation of the school (primarily, teaching)
Limiting the effects of interruption to operation of the school
Protecting the buildings
As the person responsible for the safety of your pupils and premises, it can sometimes be difficult to stay up to date with all the regulatory information available to you. SS Systems can work with you to help clarify your obligations as a school and advise on how to ensure your fire and security systems remain compliant and work for the school. Our qualified surveyors and engineers design, supply, install, commission, and service high-quality fire alarms, security systems, CCTV and access control for schools, colleges, and universities throughout the UK.
As a third-party accredited installer and maintenance provider of fire alarms and security systems for the education sector, we not only have the authority to install, but can verify that systems installed by other companies meet current legislation standards. SS Systems are specialists in the education sector having a dedicated page on our website for the promotion of the core elements relating to fire safety aspects including Fire Safety Risk Assessment, Fire Training, Fire Alarm Systems, Intruder Alarm Systems, CCTV Systems, Access Control, Servicing & Maintenance. This can be found at https://sssystems.co.uk/schools-sector/ or you can use the enquiry form on this page for more information and expert one to one advice.
#FireAlarms #FireRiskAssessment #FireSafetyEquipment #FireAlarmMaintenance