Fire Safety In Secondary Schools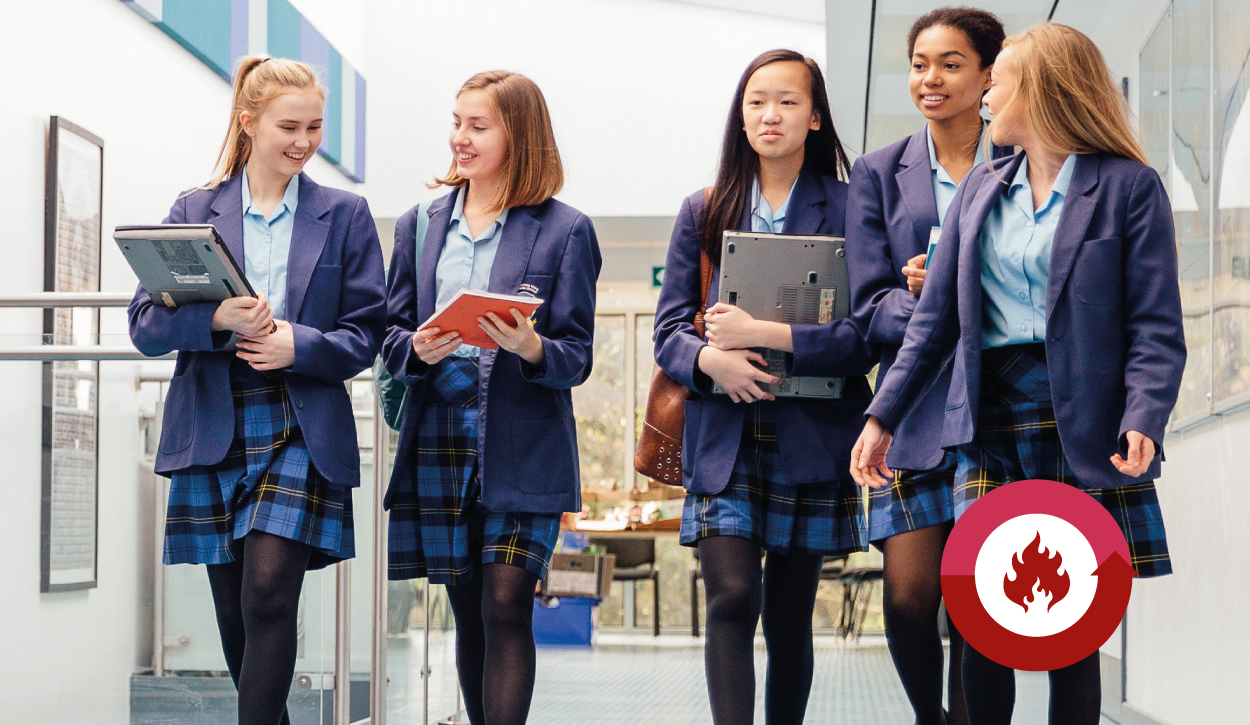 All students and staff must be safe at school, specifically concerning fire safety.
The FPA confirmed that 40 schools a month suffered fires in 2019.
How does fire safety in schools work?
Schools are legally required to have a fire safety plan, and it's called a Fire Safety Risk Assessment (FSRA).
Like every school, every school's FSRA will be different.
That said, there are some commonalities illustrated below:
Schools are required to have regular fire drills, ensuring everyone is familiar with the evacuation process.

Fire Wardens need to be listed on the FRSA.

All fire detection and alarm systems need to be maintained.

Fire safety plans are required to be in place at all times. Which in turn reduces the likelihood of a fire.
School Fire Risk Assessments
It's crucial that all schools keep on top of their fire assessments and keep their fire precautions current. They need to be reviewed regularly. Especially if any significant changes have occurred. Like a classroom change of use, or maybe an extension has recently been built etc.
According to the analysis of Home Office data by leading insurer Zurich Municipal, new figures reveal that school fires have destroyed the equivalent of 1,100 classrooms in the last five years. During this time, more than 74,000 square metres (an area equivalent to 10 football pitches) have been damaged.
The above is a shocking read. If this were to happen in your school, imagine the amount of disruption a fire would bring. Add up the number of teaching hours lost and the amount of catching-up the pupils will need to do.
Another shocking stat is that only 2% of schools hit by fire between April 2015-April 2020 were fitted with a sprinkler system.
Only earlier this month, the Birmingham Mail reported that the Wolverley CE Secondary School, Kidderminster suffered a major blaze.
We don't want to use shock tactics here, but it's a hard fact to swallow that some work is still needed. We are here to help you ensure the safety of your students and staff and to protect your building and its valuable contents.
Why SS Systems?
We have worked within the Education Sector Nationwide for over 20 years. Protecting pupils, staff, visitors and premises. We are Fire and Security professionals, and we can ensure you meet all current regulations within the strictest of budgets.
Our certified Quality Management System backs the quality of our work: ISO 9001:2015, BAFE accreditations and SSAIB certification across the disciplines we offer for design, installation and maintenance contracts.
Our fully-employed installation engineers and maintenance technicians are Enhanced DBS checked and possess the competency card scheme for the construction industry (CSCS).
How can we help with your school's Fire Safety?
We can check your fire alarm requirements.

We can carry out your regular fire risk assessments

Emergency lighting checks and maintenance

Fire extinguisher installation, maintenance & staff training on how to use them effectively.

Safety signage checks

Advise on your required fire safety procedures

Staff training and refresher training

Passive fire protection and Fire door assessment

General good fire safety house-keeping
We know this is a lot to take in, and you probably won't know exactly what you need and what is a priority, so a FREE no-obligatory survey is always a good idea.
We come to you and guide you through your responsibilities to ensure you comply with the latest regulations.