Why is a fire safety and security checklist so important?
Having a fire safety and security checklist in place, ensures your business is well managed and carefully maintained, therefore presenting fewer fire risks and intruder threats.

Christmas Shut Down
fire safety and security checklist
Tips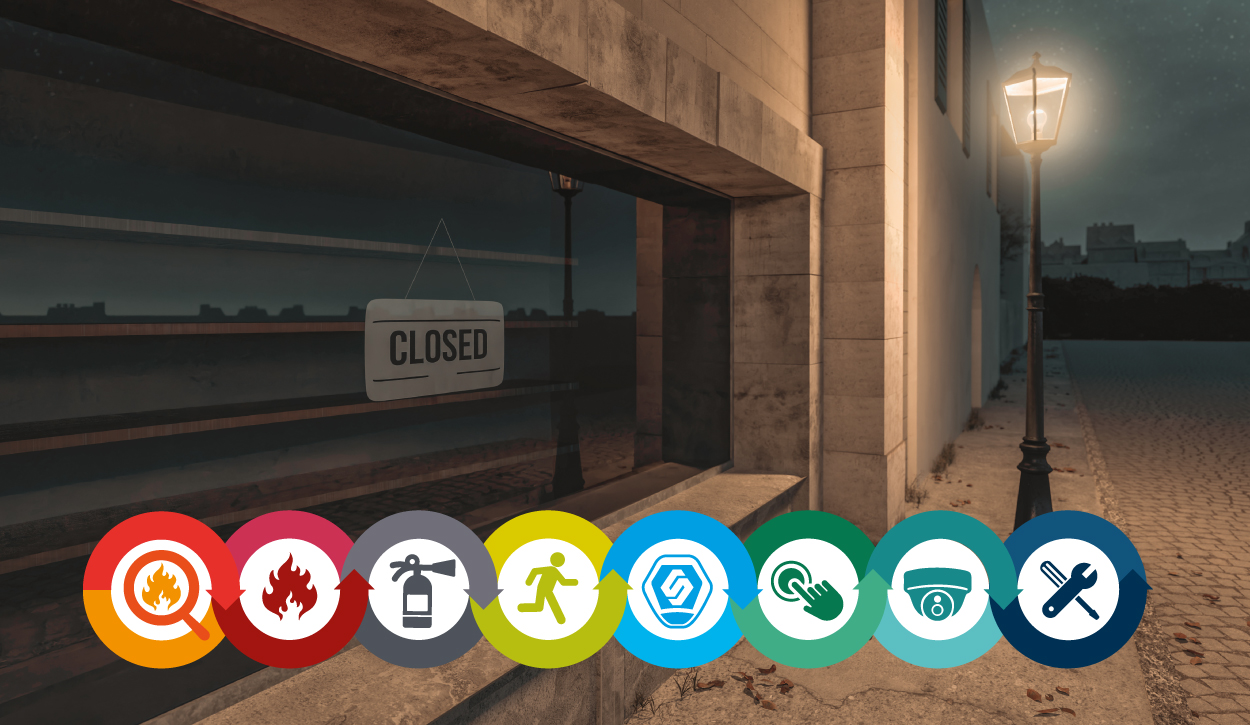 Firstly, Carry out a Site Risk Assessment
The festive season can add new risks to your current FRA, with highly flammable Christmas decorations and longer periods of vacant premises, it's worth evaluating any additional risks that could be presented, prior to shut down.
Most importantly, check systems are up to date with Maintenance and Servicing
A fully functioning Fire Alarm and Security System is essential in any building. However, with long dark nights, and periods of time where premises are left unattended, the importance to make sure your systems are fully operational becomes more so important. With opportunities for potential intruder threats and criminal damage by trespassers, becoming increased in these conditions.
Check your records to see if your Fire and Security Systems are up to date with servicing and testing.

Contact your maintenance provider if you have any system faults showing, that in addition could cause a false alarm



Our telephone fixes are free of charge
If you have any faults displaying on your systems, please contact us and we will do our best to fix them with you over the phone. Faults that are unresolved may require a site visit to ensure your systems are left fully functional.
Fire Alarm System Checklist Tips

Fire is a risk, even to empty buildings, for instance, electrical faults, poor storage of combustible materials and anti-social behaviour that can result in arson, are all threats that our out of your control. Therefore, any preventative measures that you can put in place to reduce the risk are advisable.
Carry out operational checks to the System and Alarm Receiving Centre

Ensure all your electrical and plant items not in use are switched off

Switch off internal lighting, especially any additional Christmas lighting

Make sure all your fire exit signs are fully operational

Check all flammable and combustible materials are safely stored
Intruder Alarm System
Checklist
Tips
As well as the threats that long dark nights, and periods of unattended premises create, it also good practice to consider any items that could cause a false alarm.
For example: –
Christmas decorations can become loose and trigger your intruder alarm.
Temperature changes can cause air flow, moving loose lightweight objects.
Walk around the premises and check all doors, windows, and perimeter gates etc. are locked

Test the Intruder alarm is fully functional and fault free, prior to shut down

Appoint someone to be responsible for setting the intruder system on lock up

Be clear on who will respond to any alarm activations
Access Control Checklist Tips

Utilised the most

protected areas

to keep valuable assets safe


Ensure key holder logs are up to date

Anyone that may enter the premises during shut down, must have up to date access permissions and information

Test that all access points are fully functioning
Optimising Your CCTV
Tips, on some of the things you can do, to ensure you have the best security cover form your CCTV
Are all cameras housed properly

Check cameras are functioning correctly

Look for any wear and tear on cables

Clean Camera lenses to ensure clear images

Ensure Cameras are all accompanied by "Warning Signage" to act as a deterrent

Look for blind spots around the premises

The warmth of IR lamps can attract spiders, use Spidex to best negate this issue.

Check hard drive status on the NVR to ensure recording disk space

Are there any obstructions that could occur due to high winds
For example: –
Remove any loose damaged tree branches, secure any stacked pallets, Clear fallen leaves, rubbish, and any other loose objects.
In addition, it's also worth considering if any obstructions are causing blind spots, such as high sided vehicles, plant equipment and pallets of stock. All of which, can be easily used by intruders and trespassers to conceal themselves.
Check your Fire Doors
In the unfortunate event a fire should occur, it's important to ensure that additional measures are in place to slow down the spread of a fire.
Always keep fire doors closed

Check all fire doors are clear of obstructions preventing them from fully closing

Carry out regular maintenance checks on the condition of the fire doors
Are your Escape Routes fit for purpose?
Ensure your evacuation process is up to date with the current layout of your building

Display a visual guide of the fire safety procedures

Evacuation routes need to be clearly marked

Check all emergency lighting is in good working order

Remove any clutter from corridors and exits that could therefore cause an obstruction

Make sure your fire safety procedure meets current legislation
Keep your Monitoring Services informed

Contact your monitoring provider and check they have up to date information: –
Closing and Re-opening dates and times

Let them know if anyone has arranged to be on site over the holidays and if possible, the dates and times

Correct details for the responsible person and that they are up to date with current passwords.
SS Systems Christmas Office Closed Period
Are offices will be closed from 2pm Friday 23rd December 2022 to 9am Tuesday 3rd Jan 2023. However, we will still have you covered with a 24/7 emergency call out response over the Christmas break.
Should you have any concerns during this period, call us on 03300 417 170, where our out of hours team will gain all your details and coordinate for the on-call engineer to call you with further assistance.
In the meantime. If there is anything you would like to know more information about, talk to one of our experienced staff, email sales@sssystems.co.uk or give us a call.
If you would like to re-evaluate any of your current Fire and Security measures one of our team would be happy to arrange a site visit and explore where improvements can be made and check that you are fully up to date with current legislation.
We realise every site is unique and if you have any concerns, please contact us for more specific advice.
We wish everyone a fantastic festive break, free of false alarms, leaving you SAFE to enjoy time with family and friends, SECURE in the knowledge that you have the best system cover available.