A key part of any fire safety policy has to be the fire drills, where you check that the fire alarm is adequate for your requirements, that people can leave the building safely and in a timely manner, and that you can account for those people. Fire drills must be undertaken annual and records kept as part of your fire safety and evacuation plan.
Fire drills can be difficult, especially on large sites, to account for all staff and visitors. It's generally a manual exercise which can be plagued with problems when people are on holiday, visitors are in the building or staff are out on business.
Add to that the fact that many employees find them tedious, and don't necessarily accept how important they are, then they can turn into a bit of a nightmare.
New technology for fire drills
A relatively new piece of technology is available on the market to help with roll calls on larger sites. It's produced by a company called Real Time Location Limited, based in Rotherham.
The Real Time Location Roll Call Solution allows for the easy location of personnel in real time allowing you to ensure that staff are where they need to be at any given moment, such as a fire assembly point.
It is designed to accurately identify the location of employees, visitors and personnel entering and leaving a building on site in real time, potentially shortening response times and preventing unnecessary injuries in the event of an emergency. Whether the staff are outside (close by), or inside a building, the realtime tracking systems gives peace of mind that their last known location is recorded.
How the Roll Call Solution works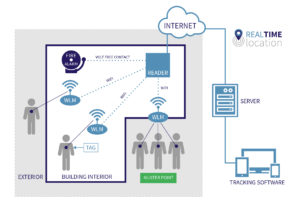 Each employee is issued with a Personnel badge/tag (RFID) which transmits a unique signal to a Wireless Location Modules (WML) and identifies each user up to 50 metres away, recording them as they enter and leave each building as the Location Modules pick up a signal (typically every 2 seconds).
For the purpose of an Assembly / Roll Call Solution, a Wireless Location Module is positioned at each emergency exit point, when staff gather at an assembly point the system logs the presence of all employees at each point to the central system, and more importantly, the last known location of each tracked personnel in real time, displaying the information to incident managers via a smart device or other portable media.
If you would like to speak to us about this technology, please get in touch with us.
Image provided by Real Time Location Limited