Heritage building challenges
Fire and security protection in the heritage sector offers a unique set of challenges. Over the last 25 years, SS Systems have partnered with the largest of the UK's Trusts, ensuring their protection and safety.
Historical buildings change in purpose, and you'll find they didn't have original systems hard-wired when originally built. That said, they need protection just like any other building, if not more! However, preservation is key!
Buildings that are considered unique for architectural or historical reasons, will be Grade listed, therefore protected.
So, in a nutshell, it is protected from being altered in such a way that might affect its character.
On top of this, historically, aesthetically pleasing buildings of grandeur are a hive of interest to the paying public. So, they will be obliged to have safety systems, signage, emergency lighting, and escape routes to consider regarding building safe us.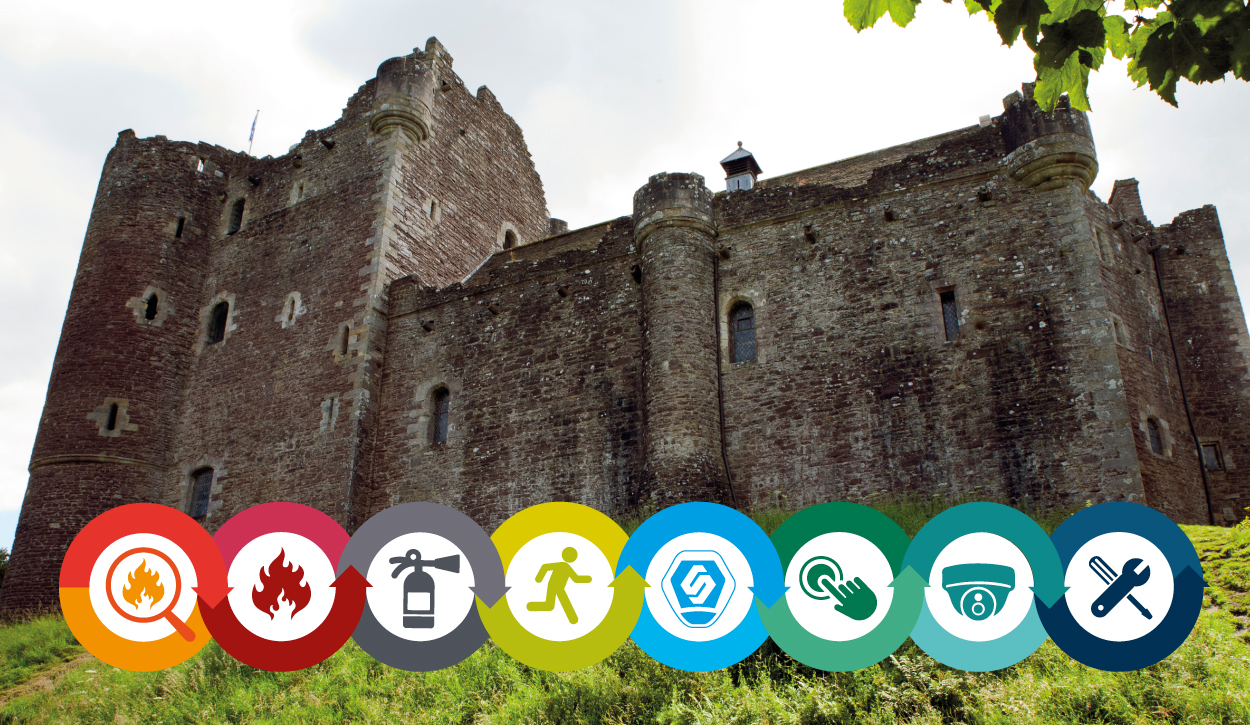 Here's a quote from the FIA (Fire Industry Association) article, Fire Protection in Britain's Heritage Buildings.
"Throughout the UK fire safety law requires us to 'provide means for detecting fire and giving warning in case of fire'. Premises must be 'equipped with appropriate fire detectors and alarms, but the legislation doesn't tell us more. The diligent fire risk assessor will most probably refer to BS 5839-1 and recommend a 'category' of the system".
We know this Code of Practice takes a broad-brush approach and doesn't give specific fire protection and safety advice. So we are here to fill in the gaps.
Why use SS Systems?
Because we can look at the entire 'protection' picture, as we manage both Fire and Security services. You are covered and supported on all frontiers as we can carry out a thorough survey when auditing on-site.
Our accreditations allow us to design, install and maintain state of the art fire alarm systems, CCTV, and Intruder and Security systems. We have the knowledge and experience of Fire and Security Systems and the Heritage sector, so it's a win-win!
Fire and security go hand in hand as the irreplaceable nature of these buildings and the artefacts they contain are of paramount importance.
Due to our heritage fire & security protection specialism, we can:
Check your fire protection requirements

Check your security protection requirements

Carry out a full on-site audit and report our findings

Design a bespoke system for your needs

Provide costs for the above

Install using our own experienced engineers

Maintain – either on an adhoc basis or part of a maintenance package

Provide Monitoring

Repairs/ call outs
SS Systems really can do everything under one roof.
The steps we take are as follows:
First, we check your onsite signal strengths, as all wireless systems are determined from this.

Secondly, one of our very experienced technicians design the fire alarm system around your bespoke site requirements

And then we move forward and provide you with a price within budget and timeframes.
To arrange an onsite audit or talk through the options, call on 03300 417 170. Or alternatively, email our experienced team at sales@sssystems.co.uk.