We all know that Monday mornings can be a bit of a let-down after the weekend. But yesterday, the staff at Rotherham Fire Alarm company, SS Systems Limited, were pleasantly surprised (and some even quite excited) to find that their boss, Andrew Stokes, had been in at the weekend and trimmed up!
Not only that, but their HR lady, Sharon Goodwin, had created a lovely Advent Calendar for the staff.
At the beginning of the month, each staff member chose a December date number. On that day, they pop into the office and pick up their gift. A great idea and we're even allowed to open them on the day (why wait until the 25th!).
Today was the turn of Chris, one of our lovely fire alarm engineers. He's currently working on the fire alarm at Lotherton Hall Bird Garden at the moment so he welcomed a few minutes in the warmth on his way to site. And by the looks of it, might be enjoying a few caramel biscuits with his lunch.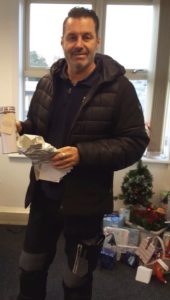 Engineers love biscuits!