Security, Winter Safety and Maintenance Tips Using CCTV
Security measures are a necessity for businesses all year round. However, as winter approaches and the nights draw in, the performance of your CCTV cameras can be dramatically affected as the conditions change from light to dark. This is where you really discover the quality of your system.
Camera selection for new systems/upgrades
The long dark nights of winter have created a challenging environment for cameras historically. Thankfully traditional low resolution infrared cameras, generating grainy black and white images are not something you have to endure throughout the colder months anymore, with technology advances in CCTV.
Modern CCTV Systems
SS Systems, install cameras which provide a full colour image, even in low lighting conditions from the Hikvision range, which could be the perfect upgrade you require this winter.
CCTV Cameras, we would recommend:
Hik

vision

Darkfighter
Hikvision Darkfighter Cameras are perfect for environments which have some ambient lighting such as streets, ports, parks, and warehousing areas.
The high-definition lens coupled with ultra-sensitive light sensors create a deep, vivid image which will allow you to see in detail even in low light conditions.
Please use the link below to view a demonstration of the clarity the Hikvision Darkfighter Cameras provide:
https://www.youtube.com/watch?time_continue=7&v=7C0_ZneuhpQ&feature=emb_logo
Hik

vision

ColourVu
Should your lighting environment be too dark for even the Darkfighter camera then the Hikvision ColourVu would be the better option.
With two built in LED lights, which activate throughout the night, provide supplemental light allowing the camera to provide a full colour vivid image.
Please use the link below to view a demonstration of the clarity and colour enhancement the Hikvision ColourVu Cameras provide:
https://www.youtube.com/watch?v=sn_DFZJCc7U
Maintenance Tips
The first thing to remember, is the clocks go back!
A commonly neglected point is to ensure you change your time settings in your all-important fire and security systems when the clocks go back on the last Sunday of October.
Why it is important to change the time setting
Seasonal maintenance can easily be overlooked but does have some important reasons for doing so.
The importance of the CCTV time recorder is that you may need an accurate date and time stamp in the event of an occurrence, with this in mind, it's good practice to ensure your systems is correct.
Remember the footage may be required for compliance purposes, and the date and time stamp, need to be accurate.
CCTV System, Site Maintenance
CCTV cameras are there to detect unwanted visitors, and assist in remote monitoring, and can make all the difference, when making a decision in the most effective call to action, in the event of a potential threat.
Another key point, is an unmaintained site can detect objects causing false alarms.
It' s also worth considering if any obstructions are coursing blind spots, for example, high sided vehicles, plant equipment and pallets of stock. All of which, can all be used by intruders and tresspassers to conceal themselves.
Tips, on some of the things you can do, to ensure you have the best security cover form your CCTV
Check all cameras are housed properly

Check cameras are functioning correctly

Look for any wear and tear on cables

Clean Camera lenses to ensure clear images

Ensure Cameras are all accompanied by "Warning Signage" to act as a deterrent

Check for obstructions that could occur due to high winds

For example:-
Remove, loose damaged tree branches

Secure any stacked pallets

Clear fallen leaves, rubbish, and loose objects
Check for blind spots around the premises and it's parameters

The warmth of IR lamps can attract spiders, use Spidex to best negate this issue.

Check hard drive status on the NVR to ensure recording
Security Lighting
Outside lighting can make a great difference in the clarity of CCTV and with longer periods of dark night conditions, intruders, and trespassers, have greater opportunity to conceal themselves. Whilst lighting is not a security measure on its own, it does assist in the deterrent that CCTV offers and helps in the visual clarity that the remote monitoring centre receives.
Well light premises also offers comfort for staff, especially the early starters and those last to leave, it can give a sense of safety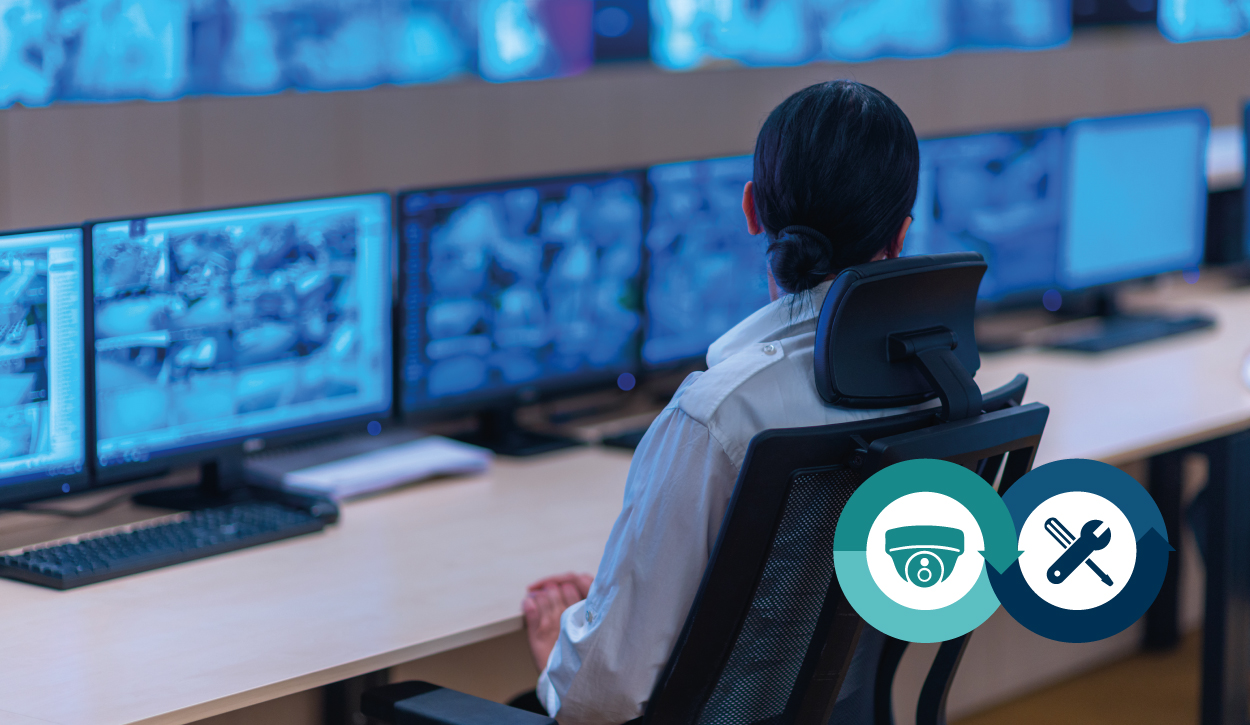 Don't have remote monitoring?
If you would like to improve your site security, please get in touch to find out more about our cost-effective remote monitoring packages.
And not to forget, are site surveys are FREE, we offer our expertise and will advise on how you can achieve the best optimal site security, using the latest technology our industry has to offer.
If you have any questions, please give us a call on 03300 417 170 or alternatively, email: sales@sssystems.co.uk