The thought of a fire in a Nursery is enough to make anyone shudder. Fire is a serious matter in any location, but in a nursery, it's a lot more complex and worrying.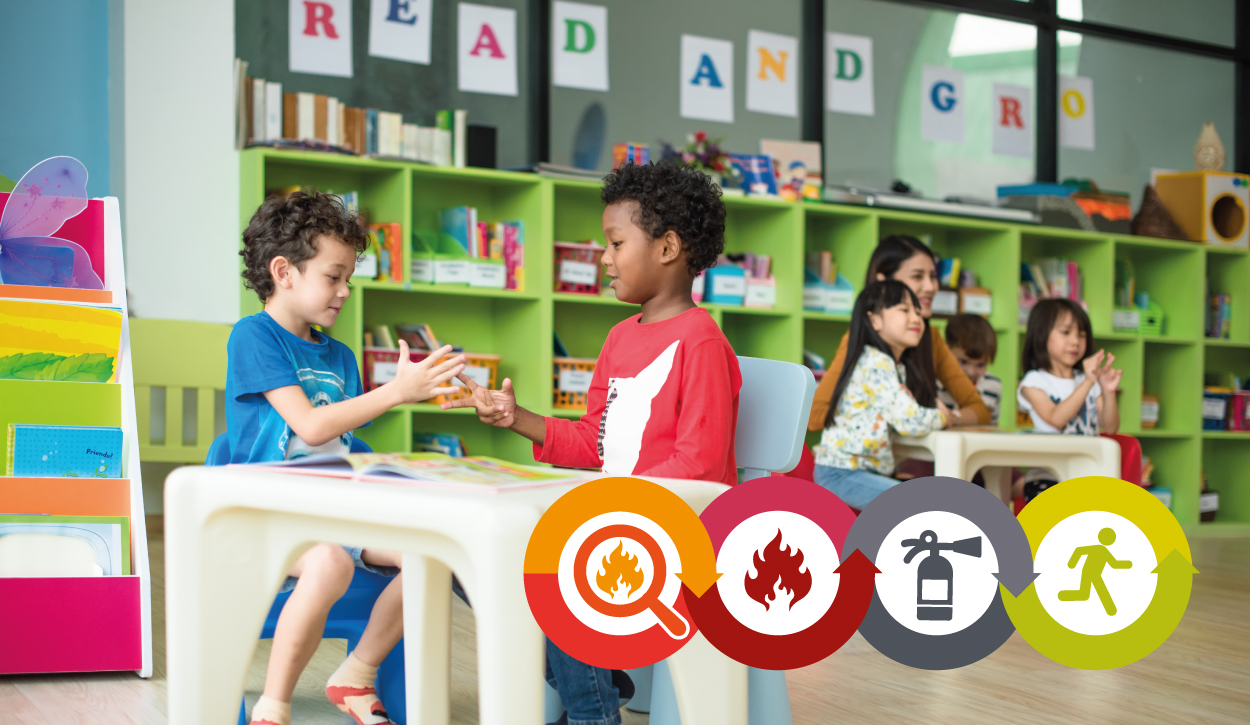 Nursery care providers must take reasonable steps to ensure the safety of children, staff and others on the premises in case of a fire or another emergency, and must have an emergency evacuation procedure.
We have recently written an article, primary school fire and security maintenance, and if you work in Nursery care, a lot of this detail will also apply. Simply click here and have a read.
The only difference is children in nursery care can be as young as 6 months of age. Therefore, cannot partner up with a friend and follow you out of the building and this is why an evacuation process becomes a lot more complicated.
The general rule the staff-child ratio is 1:3. As you can appreciate because of this ratio, all staff need to be fully up to speed with the evacuation procedure. As they will be responsible for the safety of three children if a fire did occur.
Here are our early years fire safety tips:
Do Regular Fire Risk Assessments
Hold Regular Fire Drills
Promote Good Housekeeping
Electrical Safety
Create fire escape routes
Train your staff and know your fire extinguishers
Do Regular Fire Risk Assessments
Every business owner needs to carry out a fire risk assessment (FRA). You can complete a FRA yourself however it is recommended that you get a professional accredited company to complete. Your FRA should be reviewed every year or should something change on site. You can read more here on FRA's the SS Systems way.
Hold Regular Fire Drills
Practice makes perfect! Your staff will then know exactly what to do in the event of a fire. Also, a great idea to do, when you have any new members of staff starting.
Promote Good Housekeeping
Practice good housekeeping and clear all clutter that can contribute to fuelling a fire. In a nursery, the laundry area is at high fire risk. The tumble dryers are constantly drying towels, bibs, blankets, and sometimes clothes and the filters get clogged up. Clear this build-up on a regular basis as it's highly flammable.
Electrical Safety
Turn off all electrical appliances at the end of every day, to avoid over-heating and malfunction. Also, get every appliance annually PAT tested.
Create fire escape routes
The escape route must take people to a place of safety, have clear signs, be free from obstruction and be well lit.
Train your staff and know your fire extinguishers
Your staff need to know what to do if a fire occurs and how to use the fire extinguishers. There are multiple fire training courses available from awareness through to Marshall training with practical extinguisher training.
If you have any questions on any of the above please don't hesitate to get in touch.
Why come to us for your early years Fire Safety
We have been protecting companies and their staff for over 25 years and are CHAS accredited, BAFE registered and, SSAIB certificated with BS EN ISO 9001:2015 & Construction Line approved, so your Nursery can be assured that all our, fire, security and safety equipment is designed, supplied, installed and maintained in accordance with the latest British Standards.
We care and want you and your children to have the right level of protection.
If you'd like to receive a FREE site survey you can arrange this by clicking here